San Diego Bicycle Accident Lawyer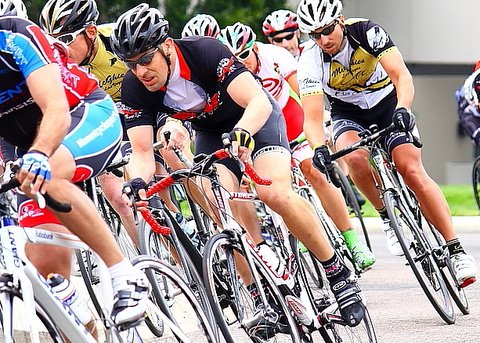 While bicycling can be a fun and healthy alternative to driving, it's also somewhat dangerous when all drivers don't share the road as they should. By informing yourself of proper bicycle safety laws and the common causes of cycling accidents, you may help prevent and avoid accidents in the future. In the event you have already been injured as the result of an accident, taking the proper steps to handle your healthcare, insurance claims, and medical bills is of the utmost importance. You should consult with an experienced, dedicated San Diego bicycle accident lawyer about your case!
Attorney Mike Bomberger is an avid cyclist and is all too familiar with bicycle component failures and the many dangers faced by cyclists in San Diego. And their coverage doesn't stop just at SD, their team also serves clients who have endured bike accidents throughout California.
San Diego Bicycle Accident Resources:
Map of Bicycle Accident Hotspots in San Diego
Also see our map of Bicycle Accidents throughout California Here.
How many Bicycle Accident Collisions Occur within San Diego County?
Looking at data from the Statewide Integrated Traffic Records System, there was a total of 714 reported bike collisions in 2015 in San Diego County. These numbers have been decreasing since 2014, which had a total of 800 collisions reported.
How Many Bike Accident Deaths Happen Each Year in San Diego?
We unfortunately see bike riders victim to bike collision deaths every year in San Diego. How many are reported each year? Going back to 2007, here's an annual breakdown of bike collision fatalities that happened in SD:
2007: 8 Fatalities
2008: 5 Fatalities
2009: 8 Fatalities
2010: 7 Fatalities
2011: 12 Fatalities
2012: 9 Fatalities
2013: 5 Fatalities
2014: 11 Fatalities
2015: 8 Fatalities
2016: 5 Fatalities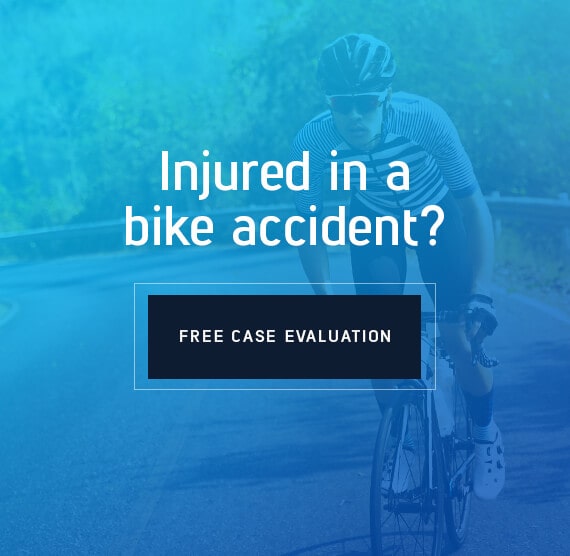 Representative Cycling Accident Cases
What are the Most Common Personal Injuries Claims for Bike Accidents?
The most common types of personal injury claims that follow a bicycle accident include motorist fault or manufacturer fault and are as follows:
Motorist hitting a cyclist through sideswipe or rear collision
Vehicle turning right in front of a shouldered cyclist
Motorist turning left in front of an oncoming cyclist
Bicycle equipment failure
How Will My Attorney Handle My Bike Accident Case?
There is a six-step claim enactment process that your skilled attorney will follow to progress your case:
Step 1: Your lawyer will look into the facts of your case, including all documentation such as medical records and police reports, and he or she will gather your bills to calculate the medical expenses accrued as a result of the accident.
Step 2: If not already determined in full, fault must be identified. This could include a split fault or comparative negligence between the motorist and yourself, if necessary. Sometimes fault is immediately and inarguably determined by the police report, and other times it must be debated.
Step 3: Your lawyer will determine all available avenues for compensation. Questions to be answered include: Was the driver operating the vehicle on behalf of an employer? Were the roadways blocked or impeding movement? Your lawyer will determine who can be held liable for the at-fault parties.
Step 4: Your lawyer will negotiate with all involved insurance companies on your behalf.
Step 5: A settlement will be reached between all responsible insurance companies and the motorist or a lawsuit will be filed.
Step 6: Once all deserved reparation is designated to you, your lawyer will also negotiate with your health insurance company if they require reimbursement following your settlement.
Hear the Stories of our Bike Accident Clients:
Testimonials from our Cyclist clients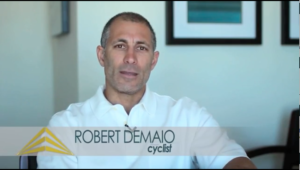 Recent Client Testimonial:
"I was training for my third Ironman. My friend Jim and I were riding from Carlsbad down to La Jolla, which was under construction, and my front wheel lodged into a divot and it stopped me, and, because I was going about 20 mph, I launched over my handlebars and hit the K rail. My injuries were: mild brain injury, fractured temple, broke my cheekbone in two places and really messed up my right shoulder. Mike Bomberger was there for me from Day 1. The construction company was held accountable, which was my number one concern. I mean, settling and getting a payout was awesome, I'm grateful for that, very grateful. I definitely recommend Estey & Bomberger." – Rachelle Smith
News Stories about our Bicycle Accident cases
Statistics on Cycling Accidents
Deaths
Cycling accidents are a serious issue in the United States. According to the National Highway Traffic Safety Administration, 726 cyclists were killed in motor vehicle collisions in 2012. The death toll for cyclists accounted for roughly 2 percent 2% of all deaths on the roadway that year, even though bicycles represented only 1 percent 1% of all traffic on the road.
In 1988, the average victim was only 24 years old. The average age jumped to 32 in 1998, and now hovers around 43. While cycling accidents were once an epidemic among children and young adults, they now affect people of all ages.
Female cyclists accounted for around 12 percent of cycling accident fatalities, while the remaining 88 percent involved males. The numbers are fairly similar for motorists, with 29 percent of collisions triggered by females and 71 percent by males.
While visibility on rural roads is certainly a major issue, urban areas account for the majority of bicycle accident fatalities each year (69 percent in 2011 and 2012). The remaining 31 percent occurred in rural areas.
The most dangerous time of the day for cyclists is dusk, as one-third of all accident fatalities occur between 4 p.m. and 8 p.m. This is likely due to the high volume of traffic on the road, as well as poor visibility and lighting. Other serious factors include driving under the influence, aggressive driving, and failure to share the road.
Injuries
In addition to the fatalities, another 49,000 cyclists were injured in motor vehicle involved? traffic accidents in 2012. That number has increased nearly 9 percent since 2001, and the rate does not appear to be slowing anytime soon. Surprisingly, as low as 10 percent of hospitalized injury victims get in contact with contact the police. 
Other Stats
While the average age of cycling accident victims is increasing, 9 percent of those killed and 20 percent of those injured in 2012 were children age 15 or younger.
California Bicycle Laws
According to the California Department of Motor Vehicles, there are four basic safety tips all cyclists are expected to follow:
Maintain control of your bicycle. The most important thing a cyclist can do is maintain control of the bicycle – even in the case of an emergency. Maintaining proper control at all times requires the cyclist to ensure all equipment is properly in place. The bicycle itself should be the right size and properly adjusted to the right height and comfort level. This reduces fatigue and improves control.
Protect yourself. While a cyclist can certainly control their his or her own actions, it's impossible to predict what another motorist may do. That's why it's crucial to always be prepared and protected with proper safety equipment. The best form of protection is a properly fitted helmet. For those under the age of 18, helmets are required by state law when riding on a public road. For others, it is highly suggested. Other forms of protection include reflective gear and proper clothing.
Be visible and alert. Again, cyclists must anticipate and avoid accidents before they happen. One way to do this is by staying visible and alert at all times. It's suggested that cyclists take extra time to watch for vehicles at intersections, driveways, and in parking lots, regardless of the right of way. Additionally, proper hand signals should be used to make motorists aware of where you are turning.
Ride with traffic. Despite what some cyclists have been taught, all traffic should ride in the same direction. This allows for optimal visibility and makes passing/lane changing easier and safer. When riding on the right side, cyclists should position themselves on the far right with enough space between them and the curb to ensure safety. When hazards are present, cyclists are encouraged to look and signal before swerving.
The California DMV also provides other valuable information for cyclists in their California Driver Handbook. This includes when to use traffic lanes, how to deal with different roadway situations, and making left turns. 
What are the Main Causes of Cycling Accidents in SD?
There are hundreds of unique factors that can cause a cycling accident. Often, accidents resulting in death or injury involve a combination of these elements. Statistics on the common causes of injury (2012) include the following:
Collisions with motor vehicles represent the single largest cause of cycling accidents at 29 percent.
A large percentage of cycling accidents – 17 percent – are caused by falls; however, these accidents often involve children and/or are instigated by a motor vehicle spooking the cyclist or causing them to swerve.
Another 13 percent of accidents are caused by insufficient pathways or roadways. Factors usually include potholes, accident debris that has not been cleared, or lanes ending without warning. This can sometimes result in a personal injury or wrongful death claim to the department of transportation.
7 percent of cycling accidents involve two bicycles or a bicycle and a pedestrian and often do not result in severe injury or require legal claims.
4 percent of cycling accidents result from dogs running in front of cyclists and/or attacking cyclists while riding.
What are the Most Common Bike Rider Injuries?
There are many factors which implicate and directly affect the severity and type of injury a cyclist sustains following an accident, such as:
Impact direction and type
The level of bodily protection a cyclist wears
Speed
Involvement of motor vehicles
Roadway conditions
Types of injuries most commonly sustained as a result of cycling accidents include:
Head Injuries. A cyclist thrown over the handlebars or otherwise impacted will have a difficult time catching the fall. Helmets are of the utmost importance, and cyclists who refuse to wear them are at a higher risk of severe head injury. Common head injuries include skull fractures, bruising, and concussions.
Brain injuries. Brain injuries are usually the most extreme and serious. While wearing a helmet can greatly reduce the impact to the brain, the high-impact nature of collisions often leaves protected cyclists injured as well. Traumatic brain injury is sometimes reported and can be permanently debilitating. Hiring a skilled and experienced brain injury attorney can help with this complicated cases.
Spinal cord injuries.With nothing to restrain cyclists in high-impact collisions, they are often ejected onto the road or into nearby objects. This can be quite damaging to the spinal cord and frequently results in fractured vertebrae, nerve damage, displaced discs, and other similar injuries. Back injuries can be difficult to recover from and may cause chronic pain or paralysis.
Facial injuries. Individuals break or fracture jaws and noses, knock out teeth, and even lose eyes as a result of bicycle injuries. Because helmets protrude from the front of the head, facial injuries can sometimes be reduced or avoided by wearing a helmet in the proper manner. In any case, scrapes to the face can cause road rash, permanent scarring, and other damage.
Broken bones and fractures. Commonly reported broken bones include arms, legs, wrists, ankles, and collarbones.
An incredibly high number of cycling accidents end in fatality. In some cases, these personal injury claims become wrongful death lawsuits for families and loved ones. While some deaths occur instantly upon impact, others come after extended hospital stays and bouts with serious and painful injuries.
What Do I Do After a Cycling Accident?
For those involved in cycling accidents, it's important to proceed carefully and record everything. Personal injury claims often require intricate details and careful documentation to be successful. If there isn't sufficient information to support your claim, you may be denied – regardless of what you know to be true. Follow these steps for best results:
Seek emergency medical attention. If you are in an accident, always tend to any immediate medical concerns first and be sure you are a safe distance from the road. If injuries are severe, you should call 911 immediately and receive appropriate attention from a medical professional. Some injuries can be treated on site, while others require an emergency room visit.
Wait for Police. A police report is one of the most useful documents an accident lawyer can have when defending your claim. Further, police serve as a valuable mediator between yourself and the other party involved. Unless you are receiving necessary medical attention, you should wait for the police to arrive on the site.
Get information from involved parties. Gather identifying information and insurance basics from the individual, but otherwise limit contact with the individual(s) to avoid admittance of fault or other missteps in the process.
Share your story. For best results in settlement mediation or court, having your side of the story taken down on the police report is key. Often, your first statements are held in the highest regard, as small facts and details will be forgotten down the road.
Collect witnesses. If any unbiased individual(s) witnessed the event, gather their contact information and encourage them to speak with the appropriate authorities
Document Events. Write down what you remember leading up to and during the event, if possible. Commit these events to memory until you have the means to record them.
Document Injuries. Keep track of all medical treatment, including emergency care, ambulance transport, and any subsequent hospitalization, rehabilitation, medication, or suffering you experience as a result. This may include missed work, family stress, debilitation, or other similar issues.
Preserve Evidence. Keep clothes unwashed, take photos if available, and leave your bicycle unrepaired to give your lawyer and other experts comprehensive access to points of defense.
Get a Lawyer. Do not battle insurance companies, police, or at-fault parties alone. A certified legal team has the expertise and knowledge to stand by your side and walk you through every step of the process. This allows you to focus on recovering from injuries, getting back to work, and regaining the confidence to begin cycling again.
How Do I Choose the Right Cycling Accident Lawyer?
Personal injury claims of any kind are specific and require experience and careful attention to detail. Bicycle accident claims require further knowledge in areas such as bike traffic laws, prejudice against cyclists among jurors and drivers, bicycle manufacturers, parts and their relevant values, and a network of expert witnesses who are knowledgeable in bicycle-related matters such as motor vehicle physics and injury rehabilitation.
The most important trait you want in a lawyer is relentless defense. Our team is dedicated to protecting your rights and securing the return of assets lost during your accident. Contact Estey & Bomberger in San Diego today to discuss your case. We also help clients with bicycle accident cases throughout all of California.
Cycling-Related Non-Profits
There are many excellent and worthwhile non-profit cycling organizations we support. We support Bikes 4 Kids Charity, grass-roots organization in National City, CA that gives bicycles to students with good behavior, good attendance and good grades. In most cases, the bike from Bikes 4 Kids Charity is the child's first bicycle ever.
From local to global, we also support Bicycles Against Poverty, a group that distributes bicycles to rural African communities to improve the standard of living, and access to water, healthcare, commercial markets and schools.
Notable Case Results for Cyclists
Smith v. Rowe Construction Company
$1.1 MILLION SETTLEMENT for a traumatic brain injury resulting from dangerous conditions in the road.
$700,000 settlement for Young for brain injury due to defective bike.
Here are some Recent Articles and Guides we wrote about Bicycle Accidents in San Diego and throughout California: