California E-Bike Accident Lawyer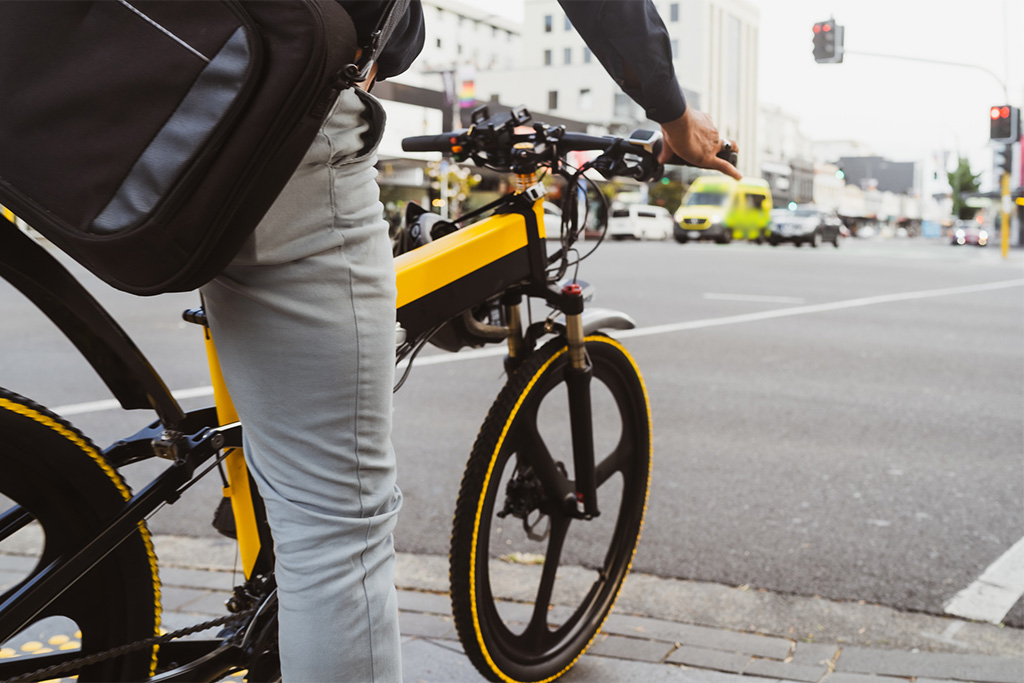 You may have noticed that electric bicycles seem to be everywhere in California these days. We think it's great that so many people are taking to the roads on alternative forms of transportation. With the price of oil only going up in the future, it's no wonder eBikes are so popular. An added benefit is fewer cars on the road means less traffic and pollution. A win/win for everyone!
For riders of electric bikes, it is important to understand your rights and the rules of the road when it comes to riding on California roads. That's why we have created this webpage as a resource for new and experienced eBike riders.
Why Hire Our Law Firm to Handle Your E-Bike Accident Case in California?
With so many new e-bikes on the roads, our law firm has seen a significant rise in the number of electronic bicycle accidents leading to serious injuries. We have also seen a growing number of accidents that have tragically resulted in wrongful death cases. If you or a loved one have been in an electric bike accident, the injury lawyers at ebCyclingLaw can hold the liable parties accountable for their actions. Especially when an accident results in a wrongful death.
At ebCyclingLaw, we handle every type of eBike case no matter how minor an injury may seem. Our accident attorneys have protected cyclists for over 25 years and have a history of achieving record setting verdicts and settlements. So that our clients can focus on their recovery, our injury attorneys handle everything. This includes keeping track of our client's medical costs and dealing with the insurance companies.
We offer free consultations and you never pay a penny unless we win your case. During your free consultation, one of our bicycle accident attorneys will answer any questions you may have regarding your case. This allows you to make an informed decision before moving forward with your claim.
Our team works tirelessly to secure our clients the fair compensation they deserve. Before you call the insurance company, contact us today to learn more about how our bike accident attorneys can help you.
Why are E-Bikes so popular?
Electric bikes, also known as eBikes or e-bikes, have become increasingly popular throughout California. The rising price of gas coupled with the convenience of not having to worry about parking means more and more e-bike riders are taking to the streets everyday. Electric bikes offer an affordable and fun way to quickly get around town while getting some exercise.
E-bikes provide a number of advantages over traditional bikes and cars. It's easy to make local trips without breaking a sweat and it's also a good way to avoid the frustration of driving in traffic. Whether you use an e-bike to commute to work, run down to the grocery store, or just ride with friends, there are a few things you should know about this new form of transportation.
What is an E-Bike?
According to the California Department of Motor Vehicles (DMV), the criteria for a vehicle to qualify as an eBike includes:
An electric bicycle must be equipped with fully operable pedals
The electric motor on an e-bike must not exceed 750 watts
How are Electric Bikes Classified in California?
The California DMV lists three specific classes of eBikes in California. Since e-bikes are regarded similarly to conventional bikes according to California law, all electric bicycle classes are exempt from motor vehicle financial responsibility (auto insurance policy), drivers license, and license plate requirements (CVC §24016).
Keep in mind, local laws may vary depending on where you live. Local jurisdictions may approve an ordinance to restrict or allow specific e-bike usage for their area. With that in mind, electric bikes in California fall into three classes:
Class 1 E-Bike
A Class 1 eBike is a low speed pedal-assisted electric bicycle that provides assistance only when the rider is pedaling up to the speed of 20 miles per hour. Class 1 e-bikes are permitted on any paved surface that a regular bike is allowed to operate.
Class 2 E-Bike
A Class 2 eBike is a low speed throttle-assisted electric bicycle that can propel the bike with or without pedal assist up to 20 miles per hour. Class 2 are permitted on any paved surface that a regular bike is allowed to operate.
Class 3 E-Bike
A Class 3 eBike is a low speed pedal-assisted electric bicycle equipped with a speedometer and a motor which provides assistance while the rider is pedaling up to 28 miles per hour. The operator of a Class 3 electric bicycle:
Must be at least 16 years old
Must wear a bicycle helmet
Must not transport passengers
May ride in a bike lane only if authorized by local authority or ordinance
It is important to note that electric scooters have a whole different set of California laws that apply to their operation on roads, sidewalks, and cycle paths.
What are the California laws regarding riding an E-bike?
Because an e-bike is considered similar to a traditional bicycle, all the same rules apply when riding on public roads. This includes stopping at red lights and stop signs, yielding to pedestrians, and not operating a vehicle under the influence of drugs or alcohol. Failing to follow the rules of the road can result in the same penalties and liabilities as a bicycle rider, included but not limited to traffic tickets, DUI/DWI, and financial obligations for any damages caused by a negligent rider.
How Our Law Firm Can Help If You Been Injured in an E-Bike Accident
If you or a loved one have been injured in an electric bike accident, ebCyclingLaw can help you through this difficult time. Our personal injury attorneys strive to provide our clients with the resources they need to achieve fair compensation for their injuries. We can hold the responsible parties accountable for their negligent actions that resulted in your injuries.
There is no such thing as a slight injury, especially if an accident was not your fault. Our team is here to support you every step of the way. We will handle every detail of your case. This includes recovering medical bills, lost wages, as well as any other damages resulting from an e-bike accident. You also won't have to worry about dealing with to the insurance company.
Contact us today to schedule a free, no obligation case review to learn more.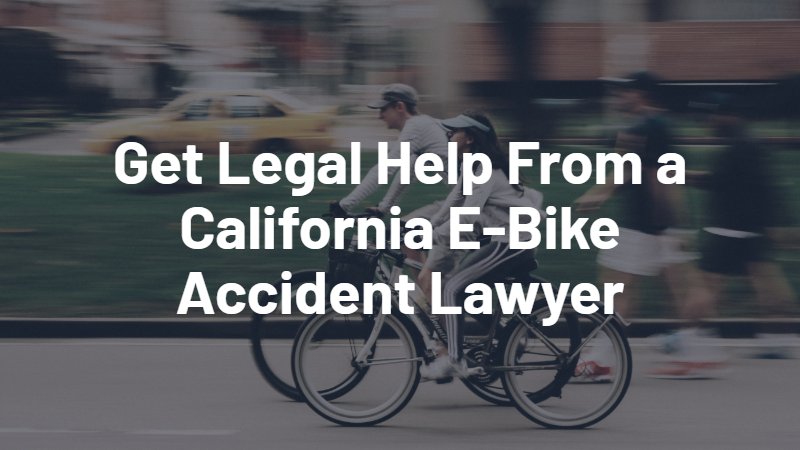 Common E-Bike Injuries
Because eBikes allow riders to travel at high a high rate of speed, and weigh significantly more than traditional bicycles, there is a greater likelihood of serious injury resulting from an accident. Common injuries related to electric bike accidents:
Back injury
Broken bones
Catastrophic injuries
Cuts and bruises
Head trauma, including concussion and other traumatic brain injuries
Internal injuries
Knee injuries
Neck injuries
Nerve damage
Shoulder separations
Soft tissue damage such as ligament tears
Spinal cord injuries
While some injuries resulting from an e-bike accident may not initially seem to be much cause for concern, without proper medical attention, certain cases can result in long-term issues. This is especially true for internal injuries that may not reveal themselves without a through examination. These types of injuries can have a lasting impact on the quality of someone's life, and in the worst occasions may even result in death.
Common Causes of E-Bike Accidents in California
As more people take to the roads on eBikes, accidents are becoming more common. Like any cycling related accident, eBike accidents can result from any number of causes. The most common causes of accidents leading to injury include:
Rider error
Many eBikers are getting back on a bike after a long away from riding. Some haven't ridden bicycles since they were young, but eBikes offer a fun and less physically demanding way to get back in the saddle. It's important to remember that even the most experienced riders fall off their bikes from time to time.
While never a pleasant experience, the weight and speed of eBikes can cause a minor rider error to result in a serious crash. The increased speed and weight of an e-bike, which can weigh more than twice as much as a traditional bicycle, often times are a contributing factor in such accidents.
Driver error
Anyone who has spent any amount of time riding bikes knows that drivers seldom pay attention to riders. As someone who rides almost everyday, I see drivers not stopping for red lights and stop signs on nearly every ride, even if it's just a quick spin to pick up a slice of pizza down the street. Just yesterday I was nearly clipped while riding in the bike lane by a driver who I can only presume was not paying attention. It's a rare day that I do not have some kind of near miss due to driver inattention.
While I admit that is a purely subjective statement, it is in a sense validated by the National Highway Traffic Safety Administration (NHTSA). It will come as no surprise to anyone who spends any time on the road, whether on a bike or in a car, that according to the NHTSA, recent years have seen a significant increase in distracted driving and speeding. This in turn has led to an increase in traffic fatalities nationwide.
When it comes to bike versus car, unfortunately the car always wins, even if the driver is completely at fault for the accident. This simple fact underscores the importance of following the rules of the road. By stopping at stop signs and red lights, yielding to pedestrians and vehicles with the right-of-way, e-bike riders have a better chance of avoiding an electric bicycle accident resulting in a personal injury.
Equipment failure
With the huge growth in eBike sales, product liability cases involving electronic motorized bikes are on the rise. When designing an e-bike, companies may use components that are not designed to take the additional abuse caused added weight and power of eBikes. There are also the battery packs, which if compromised by puncture or overheating can explode.
The affordable price-point of entry level electric bikes allows many people to take advantage of the benefits of eBikes. Unfortunately, this means corners get cut when it comes to rider safety. It's a sad fact, but there are companies that value their bottom line more than their customer's safety.
Speak to a Personal Injury Attorney After Your e-Bike Accident
Following an eBike accident, you may be looking for legal advice before making your next move. It's important to act quickly when it comes to personal injury cases. This is true whether your crash was due to a car accident or a product liability case.
This is why our law offices offer free, no obligation consultations to anyone with an accident claim. During your free case evaluation, a personal injury lawyer will review your information and advise you as to the next steps with your injury claim.
We are a boutique law firm that approaches every individual case with the attention it deserves. This is why ebCyclingLaw has such a strong track record of success. Our bicycle accident lawyers handle every aspect of your accident claim, allowing you to focus on getting you life back on track.
At ebCyclingLaw you will never pay a fee unless we win. Learn more about how our team can help you secure fair financial compensation for your accident claim. Contact us to schedule your free consultation or call (866) 806-9009 today.