Bicycle Safety Tips for Biking to Work
The Why, When, Where, What & How of Commuting by Bike
By avid cyclist and award winning attorney Mike Bomberger
WHY
Bike commuting is the healthiest mode of transportation for work. In a recent British medical Journal study with over 250,000 participants, biking was determined to be the healthiest mode of transportation. Bicycling beat walking, driving and public transportation and was shown to significantly lower one's risk of dying by 41%. Biking reduced the risk of developing cancer and heart disease by 45% when compared to people that drove to work. https://www.bmj.com/content/357/bmj.j1456
WHEN
Try to bike during the safest times. EBCyclingLaw did a study of all bike accidents in San Diego for the past 7 years. Based upon the study, we determined that the safest times to ride are in the early morning prior rush hour traffic between 6:00 and 7:00 AM and in the afternoon prior to 3:00 PM. Therefore, if you're able to leave work early between 2 and 3 rather than waiting till 330 or 4 o'clock, your risk of being involved in an accident drops dramatically. Avoiding heavy traffic times between 8 o'clock and 9 o'clock in the morning and between 4 o'clock and 7 clock in the evening will significantly reduce potential for accidents. Most serious bike accidents and fatalities occurred between 3 o'clock and 7 o'clock.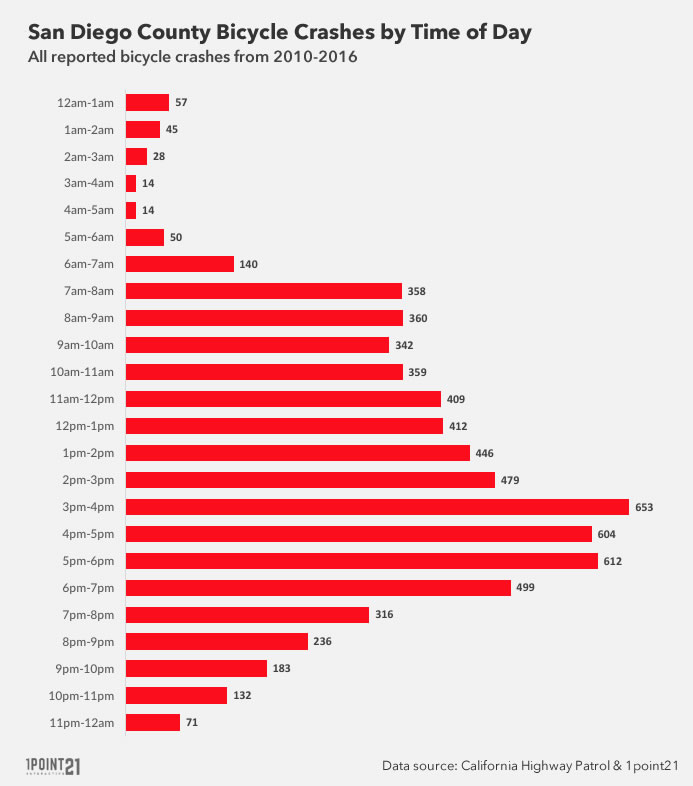 WHERE
Try to find the safest bike route to your work. It may require adding a few extra mile to your commute but it is well worth it if you can avoid injuries. Try to use bike lanes and avoid heavy traffic areas and intersections as much as you are able. Most accidents happen at intersections and driveways. Sometimes it's better to ride a little longer to ensure your safety. EBCyclingLaw is going to release a study in the coming weeks regarding the most dangerous places to ride a bike.
HOW
Bike safely. Rider Safety Visibility. What does that mean?
Wear visible clothing and put lights on your bike to make yourself more conspicuous to motorists. Distracted driving is a problem today in the cell phone age. Wearing bright colored clothing and lights on your bike are the most important things you can do for your safety. LED integrated helmet, bright colored clothing. Police reports consistently discuss what riders are wearing when determining who is at fault for the accident.
Follow the rules of the road and obey traffic laws.
Use hand signals-know and understand basic hand signals. It's important that motorists know and can anticipate what you're going to do. Reducing surprises and unexpected lane changes will make your riding safer.
Don't be afraid to claim your space on the road to protect yourself. Sometimes riding too far to the edge if there is no bike Lane encourages cars to squeeze by which can actually put you in more danger. Take up the entire lane if you need to.
WHAT
You should always have-uninsured motorist coverage. Never bike on the road if you do not have uninsured motorist coverage. Explain what uninsured motorist coverage is and how it is mandatory if you are a cyclist. Too many drivers have inadequate coverage or no coverage for bicycle accidents. Therefore, if you don't carry your own coverage, you oftentimes will not be compensated for an accident where you are hit. Uninsured motorist coverage is very inexpensive for the production a provide you. Only a small percentage of bicyclists that I have represented have had adequate uninsured motorist coverage for their injuries. Consequently, they have only received limited compensation for their injuries.